Rating: 8.5/10
(Version reviewed: 1.0)
INTRO
At time of this release, it had been some time since JST's last offering for amp sim users but the company returns in a big way with another addition to the Toneforge series. The line of popular signature amp suites has featured some big names in the past but for the most part, these names mostly revolved around the metalcore and "screamo" type genres. This time out, the company has gone in a different direction with the addition of legendary shredder; Jeff Loomis.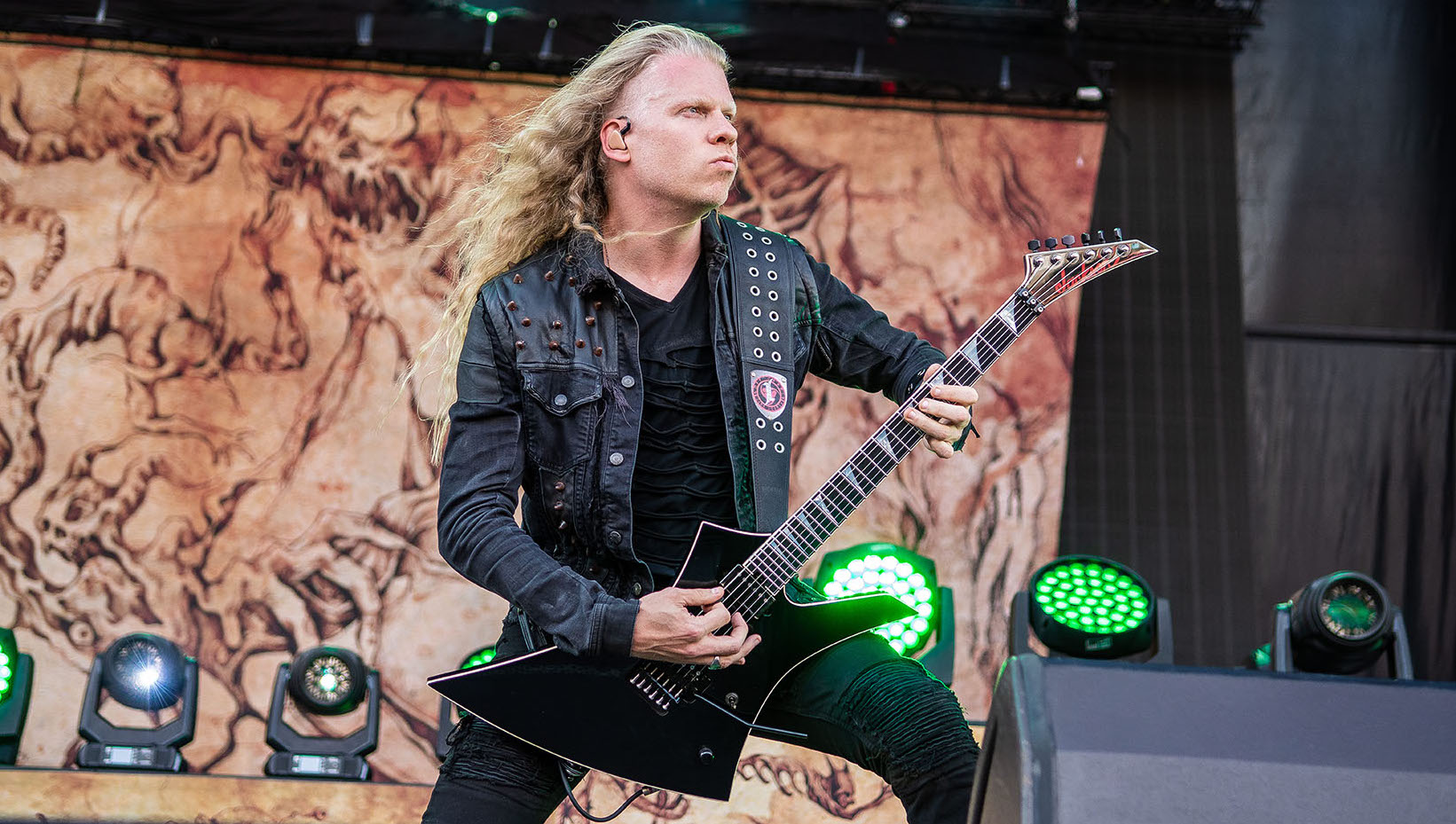 Jeff Loomis is very well known and respected for his work with Nevermore and currently Arch Enemy but his many side projects, solo projects, guest appearances, fantastic signature products and guitar instructional fame make him one of the most recognizable and talented players in the world and in some circles, the history of the instrument. JST and the man himself have collaborated on Loomis' very first signature plugin; Toneforge Jeff Loomis.
The end result is a suite-style plugin that features three single-channel amps, four stomps, a cab section that includes Bogren Digital and basically everything needed for a full mix-ready signal chain at an industry standard price for a premium plugin. Time… to … shred.
EXPERIENCE
All of the Toneforge and Bassforge plugins have similar GUIs as far as the layout goes. This gives the plugins a uniform feel that can make navigation really easy from plugin to plugin. JST has taken a touch more serious road with TFJL rather than over animating things as seen with the Jason Richardson and Hellraiser plugins. I don't mind a semi-animated and fun GUI but I like when my plugin gear looks at least something like an analog component, maybe I am old fashioned? In this case the amps have some subtle lights and glows in a generally rugged and industrial looking chasis.
Everything functions and navigates easily except for the double windows in the pedal sections. I really don't understand the move to have a separate window for each pedal. The pedals are the same size in the main window and it would be way easier to just edit them there instead. It might seem like a nit picky thing to mention but the individual pedal windows really slow down the otherwise smooth workflow.
There are two pedal / stomp sections; one in front of the amp and one after the cabinet section. The pre-FX stomps include a simple but effective, two-knob compressor and a green overdrive pedal that kind of looks and sounds like an 808 of the Maxon variety. I am always one to try any green-style OD/TS pedal and this one is pretty enjoyable. It can either lightly push the clean amp for a little more attack or as a killer boost to bring out the best rhythm and lead tones from the two high-gain amps. The compressor reminds me of an MXR DynaComp in more than a few ways. I found almost no use for it with the Rhythm and Lead amps as they are both very compressed sounding amps as is but with the clean amp, it was a perfect addition.
The post-FX stomp section includes two pedals; a reverb pedal called the Sky Box that resembles a condensed version of the Strymon Big Sky and a delay called the Echo Man. Loomis is known to use the Strymon Big Sky so this component makes total sense! The pedal features a number of reverb sizes/styles like shimmer, room, plate, spring, blood, chorale and cloud, each providing their own unique sound. When used with the clean amp, the Sky Box can create seemingly endless soundscapes from slightly airy to all out gigantic. When applied to the rhythm and lead amps, the blue wonder can be used to create a wall of shred.
The Echo Man doesn't really look like a specific pedal that I can identify so I'm not 100% sure what it is but it sure does the trick. It's really easy to dial in and like the above mentioned Sky Box, it can be used for a large number of clean applications or for the creation of moutain-top-style lead tones. I do notice a drop in volume when I use the delay and / or reverb pedals but it wasn't an overly inconvenient thing to correct.
Moving to the amps, there are three of them; Clean, Rhythm and Lead. This is a very common layout that experienced amp sim users will have certainly seen once or twice before so what makes TFJL so special? For me, it's the the attack of seemingly every note played on the Rhythm and Lead amps. Rhythm chugs cut like a knife and it makes it a lot easier for every note of every lead to find it's way to your ear no matter how heavy the mix. The low end of all three amps can be a bit to control, I found myself dialing the low EQ down below 3-4 across all three amps with multiple guitars which isn't a slight on the plugin itself as much as it is a tip for dialing the amps in. The rhythm amp also has the wonderful addition of a tube power switch that changes the power section from the warmer rounder EL34 to the cooler and more punchy 6L6.
For users with pickups that bring out a lot of low end will want to keep an eye on the low end. The "Shred" knob on the amp sadly does not increase your skill level at shredding which for me would have been great but it does add a nice edge to the tone when used sparingly. Beyond the sparing use, when I turned the shred knob passed about 4 on the dial, it awoke harshness and made the tone thinner so I avoided using the control beyond that point.
Possibly one of the largest upgrades from previous Toneforge releases is the now dual cab / IR section. The section includes a JST Matched cab complete with a golden Joey Sturgis coin, a JST 412 with the choice of four mics, four awesome Bogren Digital files and an IR loader for users to load up their favorite premium IRs. JST always includes one brilliantly matched IR or more likely an IR blend that just always seems to perfectly fit the amps included in the plugin. The 412 and it's four mics are all effective across the three amps but I would say it's the weaker of the IR options included. The four custom IR files provided by famed producer Jens Bogren and his Bogren Digital brand are all really great at delivering a nicely scooped sound EQ-wise. Some users may not like the scooped sound but I found all four included files to match up very well. Add in the option to run a single or dual cab format and the ability to load up literally any impulse response in your collection and the upgrades from Toneforges past are pretty glaring.
The only thing the cab section leaves me wanting for is a slightly better IR for the clean amp. The inclusion of a 212 cab would likely compliment the clean amp a bit more but the included cabs still make it sound great. It's really not difficult to just add any IR of your choice via the internal IR loader but having an internal 212 would be a nice touch. To really get the clean amp's versatility to shine, I used a wide variety of 112, 212 and 410 open or closed back IRs that all seemed to work out nicely.
I couldn't believe the country, blues and jazz tones that I was able to pull from the clean amp with the pre-FX compressor engaged and Echo Man set to a slight slapback. I can't put my finger on what exactly this amp is modeled from, at times I thought Roland, other times Fender, I really have no idea but whatever it is, it sounds great. The "clarity" control is a nice extra touch that I enjoyed a little more with single coil pickups but when used sparingly, it seemed to enhance every clean tone I put together.
The rhythm and lead amps both provide some truly remarkable lead tones that exude articulation and sustain for days. The two amps plus the post-FX can really be used to create tones for leads and solos that will leave any shredder with a smile on their face. I have sat for several sessions doing nothing but living the legato and tapping lifestyle with my own silly ear-to-ear grin even though I am admittedly a subpar lead player so it will be nice to see what real shredders will lay down with Toneforge Jeff Loomis. It's not often that I say a plugin is worth buying for only it's lead capabilities but this one fits that description.
Moving along to the end of the complete internal signal chain, JST has included a simple and easy going EQ panel and a post-compression section. For standalone users or users that want to engage the plugin's LIVE use capabilities, the EQ and post-compression can be useful but for those mixing in a DAW, we usually recommend using your own external EQ plugin. It's worth mentioning that JST has some terrific processing plugins in their product line so any processing included in their amp sims is usually of pretty solid quality.
The plugin is MIDI capable with a LIVE mode that enables a sort of floorboard look. HASR generally does not review MIDI capabilities or LIVE applications for plugins but with plugins becoming more popular on stages across the world, it's great to see more developers putting these features into their plugins. Will you use TFJL in a live setting? If so, let us know how it performed!!
It's always nice to see a tuner onboard although we here at HASR always recommend having a clip tuner available to you at all times. I liked the tuner included but it could use a definitive notification that your string is perfectly in tune rather than simply hovering around the 0 mark. It's always nice to see something green light up when in perfect tune to smooth things out whether for beginners or experienced users. That said, the tuner works very nicely without being overly sensitive.
UPS/DOWNS
Toneforge Jeff Loomis has absolutely ignited some new life into the Toneforge series for me as I was pretty impressed by this release. Clearly some big changes and / or upgrades have been made in the development process and they have been for the better. The tones are crisp, warm and full of shreddy goodness. I can't really score the plugin on realism or authenticity in this case given the mystery amps but there is a pretty good variety of tones inside the clean and high gain areas to be had.
The main down side for me are the pedal windows in the GUI as they really did cause some level of frustration. The fix here would be to just make the pedals editable in the main FX panels. Some users may not like the website link to Bogren Digital inside the cabinet section but it does provide a direct route to some truly terrific IRs. The amps all sound great and edit well but the controls do have a point where they start to dredge up a bit of fizz and just start feeling a little less useful. That point may differ from user to user depending on pickups, personal taste etc. Overall, the downs are fairly minimal as TFJL is a pretty solid suite.
The full price is a bit high and it puts the plugin directly up against the best plugins on the market today where the competition is certainly fierce. The plugin provides a good amount of really solid tones ranging from country and jazz to the heaviest and most high gain tones even the most aggressive players will have fun with. The rhythm tones are excellent and the lead tones are pure enjoyment. It's nice to see JST back in the amp sim game, what could be next?
---
See more: JST release video