The relationship between amp sims and drum software is undeniable. Both are a major fixture in home studios worldwide for a variety of applications. It's just so incredibly handy to have professionally recorded drums on call at all times for everything from writing and recording demos to putting out professional sounding albums.
Don't have drum software? Never used it? My question for you is why the hell not? I realize some only use standalone amp sims rather than a DAW. A DAW can be confusing to some but if you have the ability to record yourself, I highly advise doing so. Some software has onboard processing to help get that mix-ready sound and other require more knowledge in the drum mixing department.
I find drum with drum software, everyone has their thing and many people will only recommend "their thing" so it can be tough to navigate the market. I will fully admit to being biased in favor of Toontrack products in the drum software universe but I am not above recommending multiple product for multiple budgets and needs.
Some drum software is done by professional producers and sound engineers in the highest quality studios with the highest quality components. On the other end of the spectrum, some great work is done by smaller DIY companies in their basements. It becomes more about finding the best product for you. To do that, it can cost a little money and take some time but it's worth it to find a product you love using.
I am not claiming to be an expert by any means but I would say I am an advanced user. I have been using drum software since somewhere around 2003. At that time I believe I was using the Toontrack DFH samples with Propellerhead Reason with all of my velocities turned up to max for that extra robot-like goodness. Things have come a very long way since then and in that time I have managed to try many different products. I've put together a list of the stuff I really enjoyed!

(In Alphabetical Order)
FXPANSION BFD3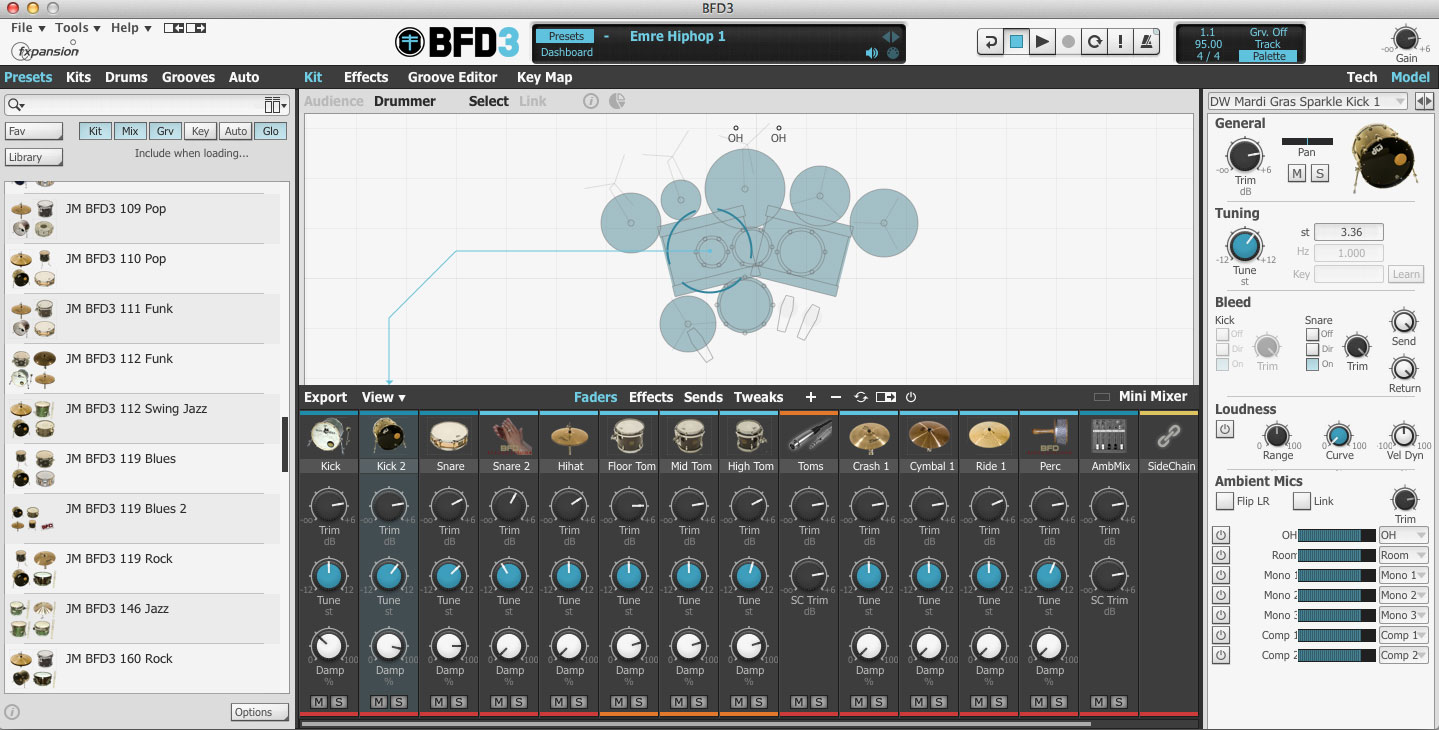 I tried BFD3 during a phase where I just wanted to try more drum samplers. While I was researching the market, I found many accounts of people really loving BFD3. After seeing so many print and video testimonials that spoke very highly of the product, I opted to buy it along with several expansions.
The sound quality is positively incredible. Every drum, cymbal and percussive instrument sounds truly great. You can tell how much time, effort and experience went into the making of every aspect of the plugin while you are using it. The GUI is pretty basic looking but it's also very easy to use and really promotes a fast workflow. BFD3 has everything a user will need for a very nice mix-ready drum sound.
BFD3 has a number of expansion packs and felt the need to purchase several of them. The Crush, Sphere, Oblivion, Heavy and the Black Album packs all provided some of the best drum sounds I have ever heard in a piece of drum software or otherwise. They have full kit expansions as well as expansions for snares and more to really give users any sound they are after. In addition to the kit expansions, Fxpansion also offers a modest but very handy line of MIDI packs that range across a number of styles.
If any drum sampler has ever come close to getting me to change from Toontrack, BFD3 was it. I used it for the better part of a year in all types of mixes from soft jazz to the heaviest metal imaginable with results that I was pretty proud of. The cost is along the same lines as Toontrack products in the highest bracket but it's very much worth it.
GETGOOD DRUMS
The Getgood Drums products come from producer Adam Nolly Getgood (no shit Sherlock). This one might be one of the best bangs for the buck on the drum software market today. The plugin has some of the best sounding samples that I have ever heard in a piece of software and all for a very modest price. To make things even better, GGD also has regular sales with even better pricing.
The downside for me is that the sampler runs through a plugin called Kontakt. I don't personally care for Kontakt or running stuff through it even though it really is immensely popular and quite an easy plugin to use. I used it on two EPs worth of material and I was really happy with how it all turned out but I will admit that I prefer not to work in Kontakt if I don't have to. I still readily recommend GGD to people regardless.
The selection of drums and cymbals is simple and effective. GGD products give you more than everything you'll need for a full compliment of high quality percussion in your mix. The components included in the various kits in the GGD product line are mostly geared towards modern drum sounds but with the right processing and midi programming, the kits are pretty versatile.
With this plugin, I feel users need to know at least a good bit about mixing drums being that there's no onboard processing. GGD's various products do however involve some extremely good sounding samples so it's not likely that you'll have to do a lot of said processing. None of the products are what I would call "mix ready" but it certainly doesn't take much to get professional quality results with GGD.
GGD offers a few expansions and a small but versatile MIDI collection. If you want crisp and very convincing drums in your mix, this one needs to be on your list! It's priced very well, try it asap!
NAUGHTY SEAL PERFECT DRUMS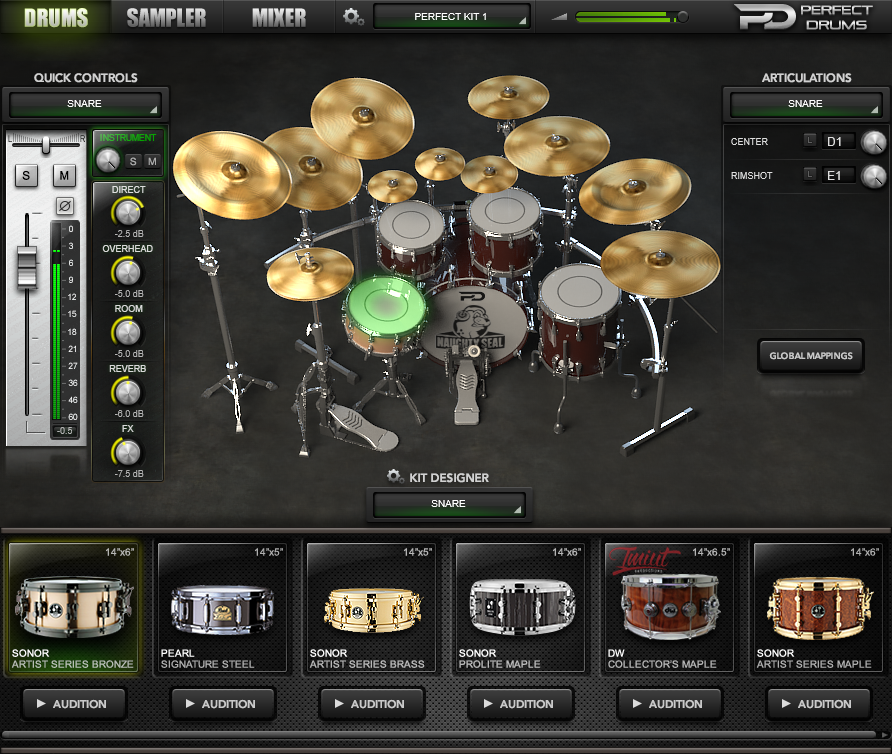 Perfect drums has received a ton of support from a wide range of users from beginner bedroom producers to some pretty big names. I have a lot of friends that use this one and I hear it praised to the heavens fairly often. I wasn't sure what to expect but I ended up really surprised by pretty well everything in the plugin.
This one involves a fairly simple but perfectly elaborate set up. There's just enough of everything available in the standard kit and the wealth of cymbal, snare, tom and kick options available sound really nice. These kits are all pretty much meant to be mix ready with the samples coming pre-processed. All of this and a flexible mixer make it easy to use for those new to drum software or those trying to broaden their horizons without too much of a learning curve.
The main reason so many advanced users love this particular drum software is the sampler itself. The sampler side of the plugin is one of the best ways I have ever come across to load your own sample libraries. Whether you're using samples you recorded at home, stuff from the Drumforge product line, free samples you've acquired in your travels and everything in betweem, Perfect Drums' internal sampler can do it. Remember though, your sound here is going to depend on the quality of your samples.
There's a large community of users to look to for help or share sounds and samples with. Naughty Seal Audio also offers ALL expansions and add-ons completely FREE for life. That's a really great perk and it really shows that the developer cares. They are constantly working on making the plugin better with the users routinely having their suggestions heard.
All in all Perfect Drums is a pretty amazing product for a reasonable price that can appeal to any level of user for a lot of applications. The kits provided are fun and effective but the sampler really adds a lot to the value and makes it useful even for those that don't intend to switch drum software entirely. Check it out today!
SLATE DIGITAL – STEVEN SLATE DRUMS
Steven Slate and his Slate Digital brand have put out some seriously high quality plugins and a lot more. SSD has been one of their flagship products since the beginning and it's now in it's 5th version. I will say that until SSD4, I wasn't really a fan, I felt the older ones really lacked in a number of ways. I got really into SSD4 so when 5 came out, I was eager to get into it.
The GUI has never really evolved to a point that I was really into it. Everything feels a bit forced together and just not for me. The GUIs have always been a big drawback for me. This isn't as much a personal preference as it is an area that Steven Slate should focus on improving for future products.
Every single solitary thing to hit involved here sounds really good. SSD products have always had this end going for them but I always felt the snares and cymbals were the standouts. SSD4 and SSD5 brought much better sounding toms and a nicer selection into the picture with more consistency across everything offered.
SSD5 kindly offers SSD4 users the chance to use upgraded versions of all of their SSD expansions when upgrading to SSD5. I love when companies do this because expansions aren't cheap so it's nice to have them grandfathered into the new products. My favorite is by far the Terry Date Drums expansion, everything in the pack hits like a damn hammer!
SSD5 is more than affordable for what's in the box and it's not hard to find plenty of expansions or MIDI packs featuring some big names at reasonable prices. SSD is also more than useful with just about any genre from metal to smooth jazz. I've recording grindcore at 250bpm and blues rock at a slow shuffle with the drums coming out sounding more than convincing in the realism department.
TOONTRACK – EZDRUMMER 2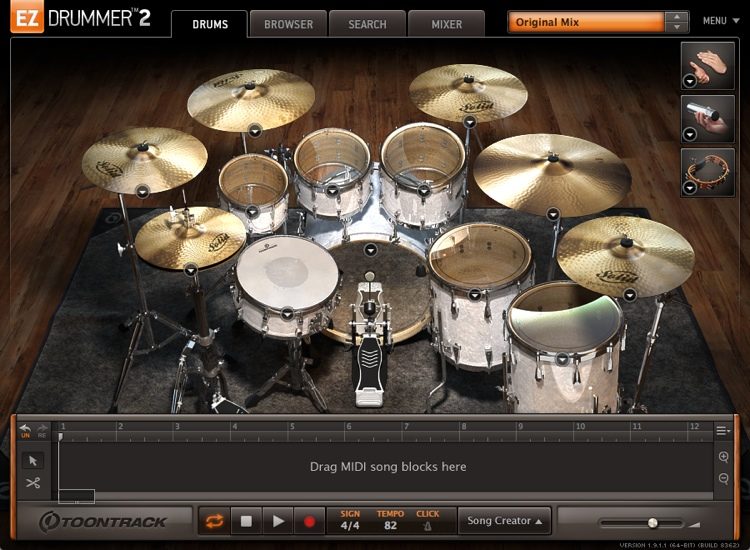 EZDrummer has been one of the most popular products in drum software for almost ten years now. The first one really changed the game for musicians looking for a really fast and easy way to lay down ideas and demos with impressive quality all things considered. I can recall just how blown away I was the first time I used it. It was literally effortless to assemble a song and have these nicely mixed drums to write with.
The second installment brought a universe of upgrades. It was hard to believe that it was even the same plugin. Everything looked and sounded worlds better, the new EZ-features included promoted pure creativity and the beat library to help sift through the midi are just some of the upgrades.
On the downside, everything is pre-processed and there's not a whole lot of flexibility in how everything actually sounds. This isn't an issue for songwriting or quick demos but if you are looking to really get into mixing a song to a more professional level, I would advise a more advanced piece of drum software.
A professional sounding mix with EZD2 is definitely possible but not as easy as it would be if you had control of the way things are being processed. With pre-processed drums, you are left catering the rest of your mix around the drums rather than blending it all more organically. With the inability to edit EQ, compression and other processing, it can be a little more of a challenge to get the sounds you want but I will say that every kit and expansion does sound pretty rad.
Toontrack offers an impossibly attractive line of EZX expansions that feature some of the best drummers and producers on earth. These are a major selling feature for the plugin. There's an EZX for what seems like every genre and percussion application imaginable. I find some of the graphics for these products to be a touch on the cheesy side but cool nonetheless. These can add up and they are not compatible with Superior Drummer so before buying many of these, decide if you want to up your game with SD3 as it may be a better investment.
Another big feature that spans across both EZD and SD is the monstrous collection of premade MIDI files. These are played on a V-Drum kit by some of the best drummers in the world and captured for users to drag and drop into their projects. Unlike the EZXs, the MIDI is compatible with both Toontrack samplers but also with other samplers if you build your drum tracks inside your DAW.
For what's included, EZDrummer2 is priced reasonably but adding the EZX expansions can really add up. That's a lot to pay for drum sounds that are for the most part fixed in place. I would recommend that intermediate and advanced users skip over this one and head straight to Superior Drummer 3 for ultimate flexibility.
TOONTRACK – SUPERIOR DRUMMER 3
I'll just go right ahead and say that if it's not obvious by now, I am very biased towards Toontrack's monster line of Superior Drummer products. I will wear this bias with pride because these aren't amp sims and I am not reviewing the whole market. I have tried most of the best alternatives but I can comfortably say that after doing so, for my needs, there's nothing that comes close to Toontrack's Superior Drummer 3.
I used SD2 for a very long time while having occasional affairs and flings or doing an album with another product to see what the world was like out there. Every time I ended up back at SD2. When SD3 came out, I purchased it in the first hour and I haven't stopped using it since.
The GUI in a drum sampler is crucial to the workflow and ease of use. SD3 has possibly one of the nicest GUIs in any plugin or program of any kind. Everything is laid out in a way that makes SD3 enjoyable to work with at every single turn. I have never once been frustrated with any Toontrack product apart from how hard it was to wait for a new metal SDX.
Like EZDrummer's EZX expansions, Superior Drummer has SDX expansions. These come out a whole lot less often than the EZXs but they are also about 100 times more detailed and involved. These SDXs are also not cheap but worth every single dollar in my opinion. Being that they are pricey, Toontrack updated all SD2 expansions with nicer graphics for SD3 so if you bought some, they are coming with you!
UGRITONE – NORTHERN ARTILLERY DRUMS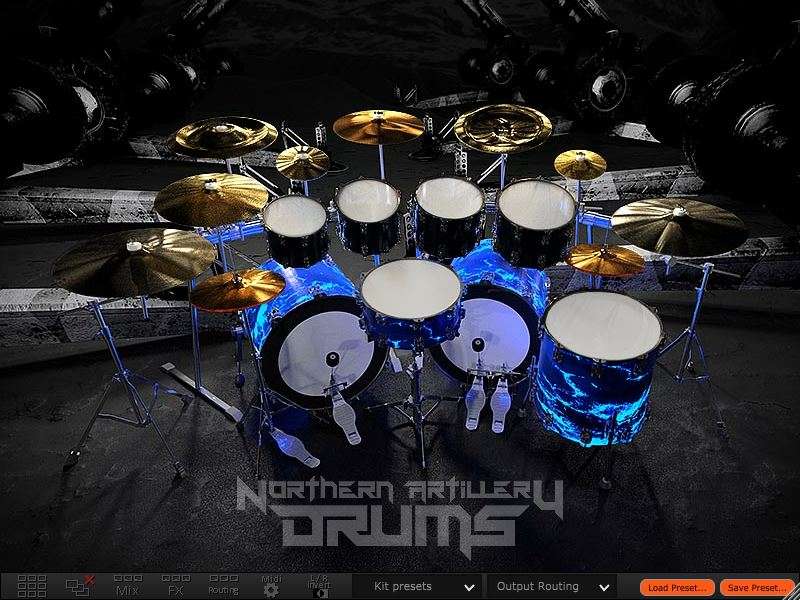 Ugritone have been putting out affordable drum samplers / software for a long time. They were formerly known as It Might Get Loud Productions and under that name they released samplers for djent, black metal, punk, thrash and lots more.

Northern Artillery Drums however is the only product in their line that has samples recorded outside of Ugritone / IMGL headquarters. The samples for this pack were done by well known Finnish producer / multi-instrumentalist Matias Kupiainen at 5 By 5 Studio in Finland.
The GUI is easy to use, the sounds inside the sampler are truly upper level quality and overall, NAD can really provide some exceedingly powerful drum sounds for many different genres. Everything ties together really nicely and it's definitely a very well made sampler for a very nice price.
UGRITONE – KVLT DRUMS 2
The first KVLT Drums came out before the company changed their name to Ugritone. It was phenomenally popular with many at-home producers because of the raw and less processed sounds inside. It was however a bit limited in what it could do so in 2019, KVLT 2 was developed.
Black metal as well as vintage death metal, thrash metal and other genres all sound better with less processed drum tones. Sometimes it's actually kind of difficult to get a more raw or less professional and polished drum sound from drum software because by design most are meant to sound polished. This is where KVLT 2 comes into play.
Ugritone really went the extra mile with KVLT 2 and it shows. The samples sound exactly as they need to, the choice of cymbals, drums and other percussion are all top notch for the focus genres and I don't think there's a better or more affordable sampler on the market today capable of providing that "raw" or less produced feel any better. The price is also very low in comparison to other samplers.
Ugritone also offer a ton of MIDI packs for literally any more aggressive style of drumming. There's no beat you won't find in the Almighty MIDI pack!!
XLN AUDIO – ADDICTIVE DRUMS 2
I used an older version Addictive Drums on several projects a few years back. I never really did like the older versions much, something about it always gave away that it was very clearly software. Might have been the cymbals. However when I tried the most recent version of the plugin and some of the new expansions being offered, I was very impressed at the evolution of things.
The new Addictive Drums 2 warrants a lot of people maybe coming back to have another look and listen like I did. If you weren't into the older stuff, I strongly recommend giving the AD series of plugins another rip because the newer stuff has been upgraded considerably. The cymbals sound drastically improved, the toms sound way less boxy and giveaways that I couldn't put my finger on in the past seem to be gone.
I tried the core plugin as well as a few expansions while reviewing the software and my favorite expansions turned out to be "Black Velvet", "Blue Oyster" and "United Heavy". All of these packs had a seemingly non-stop enjoyment kind of feel where I just couldn't find anything at all that I didn't care for.
It doesn't beat out Superior Drummer for me but it's a really nice sounding plugin that I would recommend for any genre or style.
---
My advice once again here is to try a bunch, find the one with a GUI and sounds that you really connect with most. Programming drums might seem easy but it takes time and experience to learn how to do it right. Creating MIDI is a big part of what makes the samplers sound realistic so watch your velocities especially in parts where accents are needed. I would say that every developer of the products listed above has a succession of tutorials to try and make things as stress free as possible. Learn the ropes, take your time and before you know it, your mixes will feature massive sounding drums!!