#1 – You were right in the middle of the massive nu-metal explosion that hit in the late 90s/Early 2000s, what was it like to be a part of that scene?
It was pretty insane leaving Montreal and Canada behind after so much work and moving to LA. It was the great unknown. All the bands we were into at the time were from there and we were playing ledgendary clubs and gigs working our way up the scene. It was pretty crazy once we got a deal and started playing with Ozzy, Pantera, Linkin Park, Papa Roach, Disturbed, Soulfly…. all the huge bands at the time….totally surreal. You could feel it, it was honest and a lifestyle for many, including us. It was amazing.
#2 – Slaves on dope has always been a single guitarist band, what techniques have you used live to create a bigger and more full sound?
I used to have a huge stereo guitar rig, with lots of FX and Panning to keep it interesting out front. I had a huge 16 space rack and put lots of care into my rig to make sure it was tonally accurate to what we did on our records.
#3 – What's in your main / live rig these days?
I scrapped the huge rig, now I use my Orange Rockerverb 50 MKII, with a few pedals, Whammy, Wah, Line 6 Mod and an old Boss DM2. Same ESP guitars though.
#4 – You've always employed a wide range of styles and approaches in Slaves On Dope. Which guitarists have influenced your playing and writing over the years?
Early it was Tom Morello and Dave Navarro with a little Jim Martin, loved that raw tone and hoestly in their playing. Now however its more about songwriting and groove……guitars and such are secondary to the feeling the song gives you……the emotion you get when you write a lyrics and melody over a guitar/drum/bass part.
#5 – You also have a long career behind the recording desk in your own studio, Uplift recordings. Is it challenging working with a wide range of artists or is it more of a perk?
I love bouncing around genres, all the best producers, Rick Rubin comes to mind work with many different styles and bring out the best within those genre constraints so to speak. I love metal and rock, but Pop and Hip-Hop is very cool as well. I try and bring everything I know and cross genres, bring new elements that aren't usually in POP and put them there. Keeps things interesting and me motivated.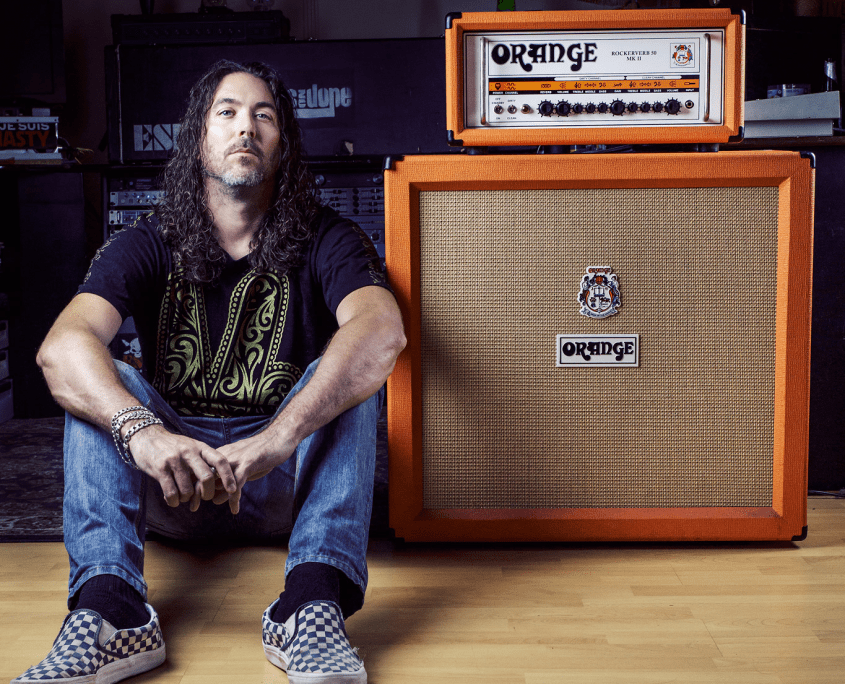 #6 – Running a high-quality recording studio in a city literally packed full of incredible musicians and bands seems pretty close to living the dream. Who are a few guitarists that have walked through your door and blew your mind?
There are a few in this city that are amazing. Max Georgiev, Manny Iradian, Dave Evangalista and Dave Gagne…… those guys are insane. Any time I need someone to play what I can't, I call them…. lol
#7 – On a similar note, which albums done in your studio contain the guitar tones you are most proud of?
Pretty much everything I do I love, I have a sound, usually its because I lean towards certain things that work, for instance I have a Soldano that I almost exclusivly use for leads, it has THE sound for me, especially for Metal and Rock.
#8 – When it comes to heavier genres, what is your process for tracking and mixing?
Tracking is about capturing the energy and emotion of the song, making sure the song comes across in the proper way so that the listener can get something from it. A lot goes into the Pre-Prod to get that right, arrangements, dynamics and such. All the attention to detail is there. The tracking is usually the execution. I do however like to get a drum take with some different fills, especially if they were all worked out before hand. You never know what you will get and usually a few make the final drum take.
Mixing is a beast, but If you've engineered the track yourself, it's painless compared to mixing a record tracked in some rehearsal space with terrible acoustics, or guitars with no DI track to reamp. I mix bottom up, so I always start with the drums and work up to the vocals. I add everything in then tweak further as the relationship of all the instuments is really what matters. I use the same approach for all the songs on the record but I do like to keep things fresh between songs, so they don't all sound exactly the same, lots of FX and stuff like that.
#9 – Do you have experience with amp sim plugins? If so, which plugins have you enjoyed the most?
I rarely reamp or use amp sims, but I have had to in the past. For bass guitar, I think it's been nailed since the Sansamp Bass driver was invented. I can and have many times, just used that and a DI to make a record. Guitars however are very different. The less gain you need, the better the amp sim will sound. Once you get into the high gain territory is where most fail to sound legit. UAD has a few that sound decent, the Diezel and the Suhr are good for high gain tones. I did try the STL Tones recently and got some pretty good results as well.
#10 – While amp sims and plugins continue to improve and evolve, they can still use some assistance to sound warmer and realistic from time to time. What techniques or plugins would you use to add some more life to a guitar or bass amp sim?
Tape sim on the output helps, sometimes stacking amps helps. Sometype of saturation usually, Fatso or a Pedal on the input. It really depends on what sound you're going for, but I find they usually need more work that just using a real amp to start with.
#11 – What tips for recording guitars with amp sims at home can you share with the average hobbyist level home producer?
Try and craft a unique tone, tweak those presets and don't be scared to stack a few to get what you are looking for. Some of the best guitar tones recorded are blends of a few amps.
#12 – What does the next year or so have in store for Slaves On Dope and Uplift?
We have a covers EP that is done and should be out this year, dunno when exactly.
I got lots of bands and artists coming through, follow my instagram to see the daily insanity.
#13 – On the spot, no time to think, the best guitar tones ever recorded, what handful of tones come to mind off the top of your head?
Jerry Cantrell on Dirt, EVH, ZZ Top, Hendrix, Metallica black record…… Eric Johnson for the ultimate lead tone, which reminds me, I need a strat. 🙂
---
Kevin Jardine and Slaves On Dope were instrumental in who I became as a musician. I had the chance to learn a lot about the business, showmanship, songwriting, gear and a lot more. Slaves on dope continue to put out great material and the product coming from Kevin's studio just keeps getting more impressive. We hope to talk with Kevin more in the future!
SLAVES ON DOPE / UPLIFT RECORDING STUDIO