Amp sims have been labeled for years as being "just for metal" and they have always brought on statements like "plugins will never be able to do vintage stuff" etc. Statements like this are ignorant, uneducated and often come from people that either haven't tried amp sims or perhaps tried a bad one way back and sat on a bad first impression forever.
On the other side of the coin, for a guitarist or bass player that has no experience with amp sims, a few Google searches could easily give the impression that amp sims are indeed "only for metal". Most notably because the top developers seem to be locked in a high gain arms race at times. Finding the vintage, rock, classic, retro inspired plugins can sometimes take a bit more of a look.
Contrary to the beliefs of some, there are actually many amp sims for guitar and bass, pedal plugins, impulse response packs and more modeled from a lot of legendary level gear. Whether it be loud and loose classic rock, blues rock, folk, jazz, country and more, there's a lot out there that can pull it off!
(in alphabetical order)
FREE
Terrific cleans / driven cleans for any style
Great for vintage and modern sounds.
Works amazingly well with a loader and 3rd party IRs
Great for guitar or bass
Capable of everything from swing to skate punk
Amazing canvas for drive, boost and effect plugins
Extra gain available when needed
Huge range of tone applications
Very affordable considering the high quality
Based on the famed Soldano x88r preamp
Great for really any style or genre
Much better when used with a power amp plugin like the TPA-1
Requires an impulse response loader like Ignite Amps NadIR 2.0
One of the best Marshall-inspired plugins on the market
Three 2-channel amps based on the 800, 900 and JTM45
Very easy to dial in quickly and efficiently for most uses
Features three 2-channel Fender-inspired amps
Provides a number of high quality clean and driven clean tones
Arguably Kuassa's best product to date!
Feat: Fender, Vox, Marshall, Matchless, Dr.Z, Soldano & many other
Massive list of components modeled from vintage drive and effect pedals
Great selection of bass components for any style
Overall best full-suite plugin and then some
Tones for literally any style of player
Four 2-Channel Marshall Amps (JMPx2, JCM800, Slash)
Highly realistic across the entire plugin
Includes a solid selection of boost / OD pedals
Post-FX section includes delay, reverb, chorus and more
The highest quality Soldano SLO100 inspired plugin on the market
Capable of doing anything from blues to metal
Pulls off all the Soldano SLO100 signature tone traits
Detailed cabinet section with a variety of options / mics
The most realistic and highly detailed Marshall amp sim I have ever used
The JCM 800 2210 model has 2-channels and more gain on tap
One of the best amp sims ever made for rock tones
A nice selection of additional features
The only plugin based on the Fender Tone Master
Next-gen level realism and authenticity just like the other Nembrini Audio offerings
High quality cab section with 6 cabinets and 4 mics
Terrific for everything from vintage thrash to blues, country, hard rock and a lot more
NEURAL DSP ARCHETYPE CORY WONG
Feat: Fender, DVmark, Orange, Marshall, Hiwatt and many more
Rig pack expansions for vintage tones / genres
Highly realistic tones for any application
A huge arsenal of effects, processing and various other components
Several great sounding bass components
Feat: Soldano, Marshall, Fender and more
Believed by many to be one of the best amp sims ever made
Designed ideally for classic genres and tones
Includes very high quality post-FX w/ reverb, delay + more
Amazing for clean, dirty and vintage style high gain tones
The TwinR has my personal favorite clean tone on the entire market
Absolutely authentic Fender Twin controls and tones on both
Timeless amps good for modern and vintage applications
Affordable and very high quality
Feat: Bogner, Marshall, Fender and Wizard amps
The best vintage-aimed multi-amp suite on the market
Pre and post effects pedals
Highly realistic amp sims w/ condensed controls
Very strong from clean to mid-gain crunch applications
The only PRS Dallas amp sim ever made
An internal boost pedal with shaping options
Really excels with the use of 3rd part impulses
Comes in a 3-pack of plugins w/the PRS Archon and Blue Sierra
PEDALS
This list could be huge so I will try and condense a little bit. In full-suite type plugins like Helix Native and TH-U, there are stacks of very nice pedals to work with. There are however many standalone pedal plugins modeled from some magnificent stomps.
A revolving door of OD, boost, distortion, fuzz and more
High quality across all of the options inside
Presets for each pedal to help get the feel and tones needed
GUI makes everything a breeze to dial in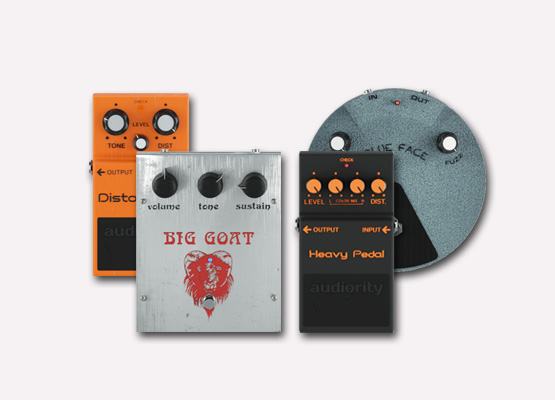 Feat: HM2 Heavy Metal, Fuzz Face, Big Muff and DS-1
Available separate or in a bundle
All very authentic in how they sound and operate
Regular updates with mod selections in the GUI
Modeled nicely from BBE's own hardware
Modulation, boost, processing and more for modern and vintage tones
Can be used in their stomp board plugin or separately
A great range of stomps that any player will find use for
Each plugin has a number of pedals inside
Plugins for fans of drive, boost, delay, modulation and processing stomps
High quality modeling across the entire series
Modern and vintage options included throughout series
A very large collection of plugins based on classic stomps
Every single plugin in the series is of very high quality
Less drive/boost options but a lot of modulation, delay and more
Warm, detailed and generally wonderful to work with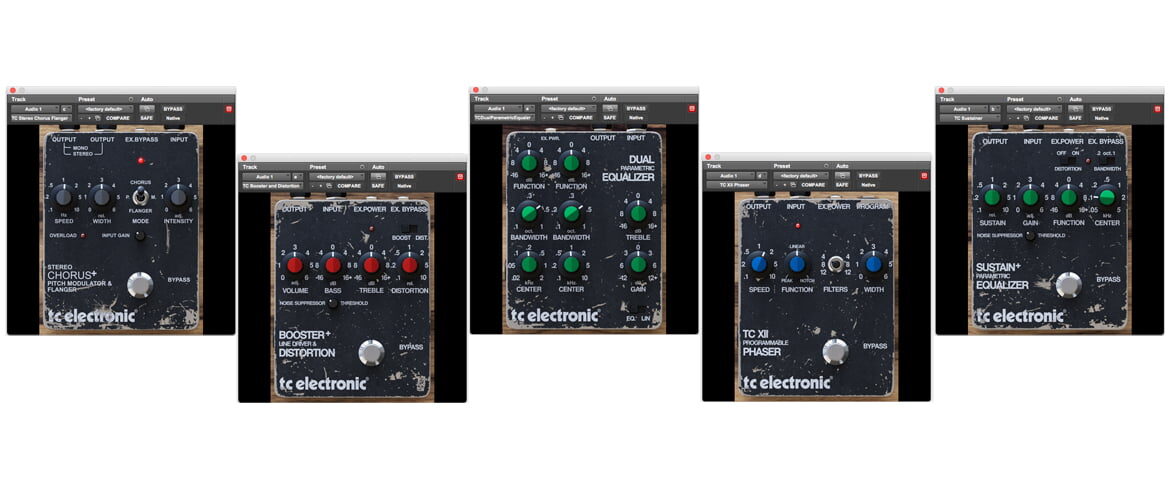 High quality plugin versions of very expensive pedals
Sought after by many tone gurus in hardware form
Said to be "meticulously close to the originals"
Unique effects with a very signature sound to them
Useful for modern or vintage applications
BASS
Don't worry bass players, no one forgot about you! While the bass amp sim market severely lacked for many years, there are now some great options. Some of these options are great for more classic styles but they are all capable of a lot.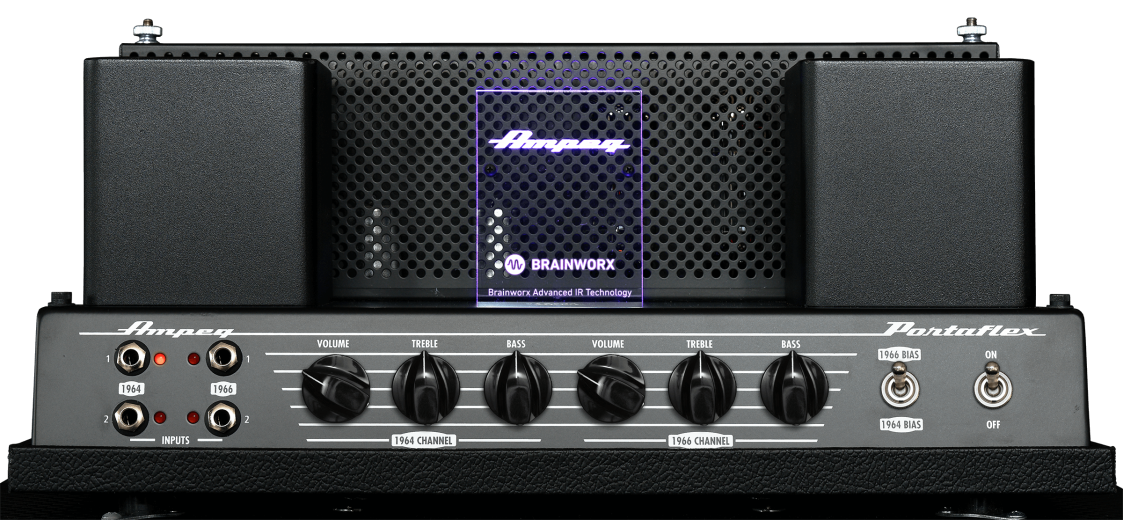 Possibly the best bass plugin today for all classic and vintage genres/tones
Two different versions of the amp in one plugin
Unique and versatile selection of controls with a lot of value
Includes a great list of IRs and additional processing features
High quality and authentic tones for nearly any style of bass
Same preamp as the original Ampeg SVT plus all tube power section
Controls from the original are all very well represented in the plugin
Includes cabinet section, HP / LP filters and more
All of the classic Ampeg tone characteristics
Versatility across modern and classic genres / styles
Plugin includes a small but great selection of post-FX tools
My personal favorite bass amp sim on today's market
Better for the grittier side of classic bass tones
Better for modern bass but capable of easily fitting into classic genres
Very affordable for any budget
A great selection of ways to shape and enhance the tones
Solid cabinet section, onboard compression and more
100% FREE
Based on the timeless and versatile SansAmp Bass Driver DI
Works as an OD pedal, as a preamp or all on it's own
Can be used with or without an impulse loader and IRs
Useful for any style or genre
NOTE ON IMPULSE RESPONSES
For vintage-inspired impulse responses, nearly every developer has something to offer. There are many famous guitar and bass cabs from throughout history. Most of them have been captured into IR packs, likely several developers so nothing is that hard to find. Google up the best cabs / speakers / mics and positions for the genres you play most. After that simply hit the developer pages in search of specifics!