Nic Gruhn is the lead guitarist in popular Swiss tech-death band Virvum and former touring guitarist with American band; Fallujah.
#1 – Let's start with your evolution as a player, what guitarists influenced you the most as a young player and which players pushed you to elevate your skill to another level?
Bands like At The Gates, The Black Dahlia Murder, Neaera, Maroon (Germany) were responsible for me picking up the electric guitar in the first place and learning the basics of playing metal. What these bands have in common, is that they are all producing insanely memorable melodic riffs, which at the same time, are good practice material for anyone who wants to learn the usual picking techniques from scratch.
This is definitely the foundation you need before you can get into anything more technical – it needs to be part of your muscle memory and will be something you'll never unlearn.
Whilst playing in a few metalcore and hardcore bands, I got bored of the "basic" power chords and chugging. I was pulled into a bit of a more artistic, challenging style – Bands like Children Of Bodom (The first two records only) or Necrophagist blew my mind and had me practicing their songs for years.
In 2009-2010, my mind was then blown anew when Tosin Abasi showed up with Animals As Leaders. This guy has proven to be one of the sickest, most versatile guitar players the world has ever witnessed, on so many levels. AAL's debut album clearly changed the way I, and so many others, perceive metal music in general.
#2 – How did Virvum come together as a band and when did Season of mist come into the picture?
Bryan (vocalist) and I have been making music together for the last 12 years (He switched from drumming to singing in 2011 – But he still plays and teaches drums next to the band). The rest joined in 2011-2012 and we played some live shows under a different name back then.
At some point we decided we do have some serious ambitions for what we want this band to be, so we stopped with the clueless rehearsing and I sat down for two years straight to write our debut album "Illuminance".
We self-released the album in 2016 with a DIY promo campaign, and luckily, it got some decent reception, especially from people that are into the more technical style of death metal. About 8 months later, we got hit up by Season Of Mist who wanted to license the record and sign us. They re-released "Illuminance" in November 2017.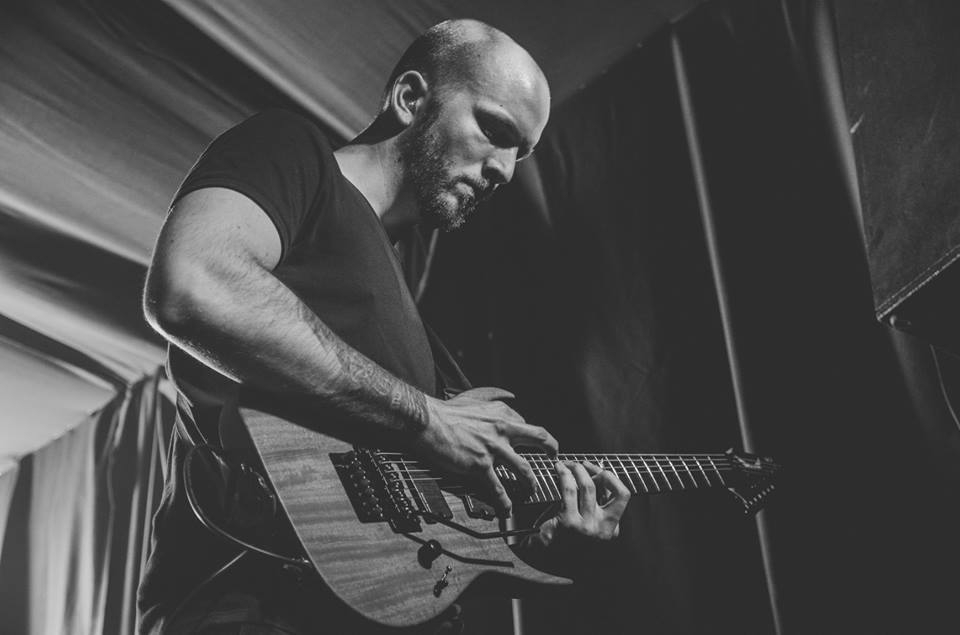 #3 – You toured as a member of Fallujah for a time, how did that come together and did it it help your work with Virvum?
Fallujah was a newcomer at this point and I was asked to play guitar on their very first European tour in 2013. I had been digging their stuff since a couple years before that and already knew how to play some of their songs. That tour was at the same time my very first tour ever, and I'm extremely grateful to these guys for taking me out on it.
It certainly was inspiring to play for them and to be touring with a big band like Suffocation – It motivated me to reach that level of a touring band with my own band some day, and thus helped me focus on writing.
#4 – Techdeath is quickly becoming the new top of the heap for showcasing musicianship. With every band seemingly trying to be faster and more technical, does that come into the writing process at all for Virvum or is it more of a byproduct?
For Virvum, it's definitely a byproduct. Whatever I write, it would always be complex or technical in some way, because that's what comes naturally when I write.
The focus is a different one though – I strife to write well structured songs with thought-out compositions, dynamics, and a million of other things. In fact, there are so many aspects to how the music, or at least my vision of it, should sound – the technicality not once being one of them though.
#5 – 2016's "Illuminance" (Season of Mist) has quickly become one of my personal favorite techdeath offerings. The guitar tones are ridiculously tight, could you tell us un detail, what gear did you and fellow Virvum shredder Groftoby Koelman use on the album?
I am glad you enjoyed the album. You probably won't believe it but we recorded the guitars basically in bedroom-like conditions, or even worse than that (Guitar > DI > Peavey 6505II > Mesa 4×12 cab > Sennheiser E906 > Focusrite 2i2). It was all a stupid Idea, because tracking the guitars took over 6 months, while we needed the cab for live-shows and had to move it and re-adjust the mic placement countless times. But, we managed to finish it with more or less similar sounding tones as a reference signal. The DI signals were later on re-amped through another 6505 or 5150 (can't remember).
I tracked leads on a Kemper Profiler with another 6505 profile. I created harmonics and layering with an Ebow, a Strymon Bigsky Pedal, and some LogicX synths.
#6 – In a dual guitarist band, how do Groftoby and yourself dial in your tones to compliment each other in the mix so well?
We use the same amps or Kemper profiler rigs whenever we can, so it really just becomes a matter of how the pickups of the guitar sound. As of late, we started to use stereo guitar signals when we play live, so we can also control the Pan of individual rigs on the PA System.
#7 – Do you have any experience with amp sim plugins and software? If so, which products have you tried and enjoyed?
This Is a topic I really need to get into a lot more, especially for playing live. Why bother carrying around massively, heavy amps, when you could just play through the computer, with little to no difference in quality?
At home, I have used Software like Amplitube or PodFarm before, but they don't come anywhere close to a real amp. They just served me well for fiddling around a bit so far. I have heard good things of high profile Vst's like Fortin, and I definitely want to check those out next.
#8 – Have you guys started writing or perhaps any pre-production for a new album? What details can you give us on the band's material or possible recordings moving forward?
We are in heavy writing mode right now, but "good things take time"…
So far, we have never worked with pre-productions – Once the compositions are complete and the vision is there, we go straight to recording.
I can't really say much about the new material, except for that we are giving our all to make it the best we can, just like we did with the last one.
What's also important to us, is that we will not release the same album twice. That "Illuminance"-vibe belongs to that album. Some stuff may hopefully reminisce of it, but the overall vibe will take a step further into a new direction.
There is no formula of how to write a Virvum album – Hopefully there will never be one and each record will be individually authentic and enjoyable.
#9 – No time to think, on the spot, three of your all-time favorite recorded guitar tones, annnnd GO!
Necrophagist – Ignominious & Pale
Cloudkicker – Push It Way Up!
Animals As Leaders – The Brain Dance
#10 – 2019 seems to have been very busy for Virvum so far, what does the rest of this year and perhaps early 2020 have in store for Virvum and your loyal fans?
We had three tours this year, two European ones and one US one. We got a couple more one off shows in Europe coming up this Summer, but unless we get a tour offer we can't refuse, it's probably going to be a quiet time for some time.
We might try to be back in the US in 2020, as our visas will still be valid, however, writing and recording a new record is what's on top of our minds right now.
The tech-death world is packed full to the brim with some of the most talented musicians on planet earth and Virvum are a fine example of such players. They have drive, motivation, talent, great songs and a great label behind them so I personally can't wait to see/hear what they come up with next!! Thanks to Nic and Season of mist for this opportunity. CHECK OUT THE LINKS!!
BANDCAMP / FACEBOOK / SEASON OF MIST